Dear all, I am happy to announce new version of phpipam IP address management – version 1.0.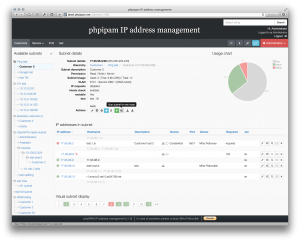 New features, like changelog, favourite subnets, upgraded UI with bootstrap3 and other were introduced, and also lots of improvements and bug fixes are included. Most important are:
IP address changelog, subnet and section changelogs with full changelog under tools;
Favourite subnets for quick access;
Bootstrap 3 with UI enhancements;
Widgets can be reordered (dragged) directly on dashboard;
Mail settings can now be set on gui (localhost / smtp);
If you find phpIPAM useful for your company donations would be highly appreciated
You can demo it here: http://demo.phpipam.net/
You can download it on sourceforge site: phpipam-1.0.
Special thanks to all the people submitting bug reports, translators and feature testers!
Screenshots:
Full changelog for this release is:
New features:
----------------------------
+ IP address page with IP address details and IP history (Changelog);
+ IP address changelog, subnet and section changelogs with full changelog under tools;
+ Favourite subnets for quick access;
+ Adding subnets from free space with automatic mask provided;
+ Automatic database validity check after upgrading and automatic field/table fix under administration;
+ Automatic weekly check for new phpipam version;

Enhancements:
----------------------------
+ Bootstrap 3;
+ UI enhancements;
+ Improved views based on browser width;
+ Widget order can now be set;
+ Widgets can be reordered (dragged) directly on dashboard;
+ Subnet can now be splitted to max 256 new subnets (16 before);
+ Scan settings are moved to Administration;
+ Widget management has moved to administration, which allows creation of new widgets;
+ Improved ICMP error detection;
+ Mail settings can now be set on gui (localhost / smtp);
+ Popup windows are now draggable;
+ VLAN adding in the fly enhancements;
+ Master section now shows all subnets in subsections;
+ Tools > devices redone;
+ DeviceTypes can now be edited/set/added;
+ Ping subnet enhancements;
+ Custom field types are now defineable (int/varchar/date/datetime/text/bool/set);
+ Date and timepicker popups if type = date/datetime;
+ For `set` and boolean custom fields dropdown is presented that users can pick;
+ Favourite subnets widget;
+ IP requests widget;
+ Changelog widget;

Translations:
----------------------------
+ Added Brazil translation (Michel Braga Guimarães);

Bugfixes:
--------
+ UI fixes;
+ Fixed bug where last page of IP addresses was inaccessible;
+ IP address state change is now sent to all admins;
+ Fixed subnet displaying as 0.0.0.0/0 in details;
+ Fixed links to subnets form vlans and vrfs;
+ Fixed search result showing all folders if searched item is not IP address;
+ Fixed disapearing section when L2 section was selected as master section;
+ Fixed device ID showing in mail notification instead of hostname;
+ Fixed device ID showing in search results and export instead of hostname;
+ Fixed search for subnet name returned no results;
+ Fixed apostophe in IP address description throws SQL error for scan results and XLS import;
+ Fixed requester email gets cut if longer than 32 chars;
+ Fixed admin folder edit appearing as subnet;
+ Fixed missing device/port in import;
+ Fixed master section delete did not delete subsections and belonging subnets/ips;
+ Fixed online status was not updated when running Ping status scans;
+ Fixed Folder name not appearing when deleting folder;

brm